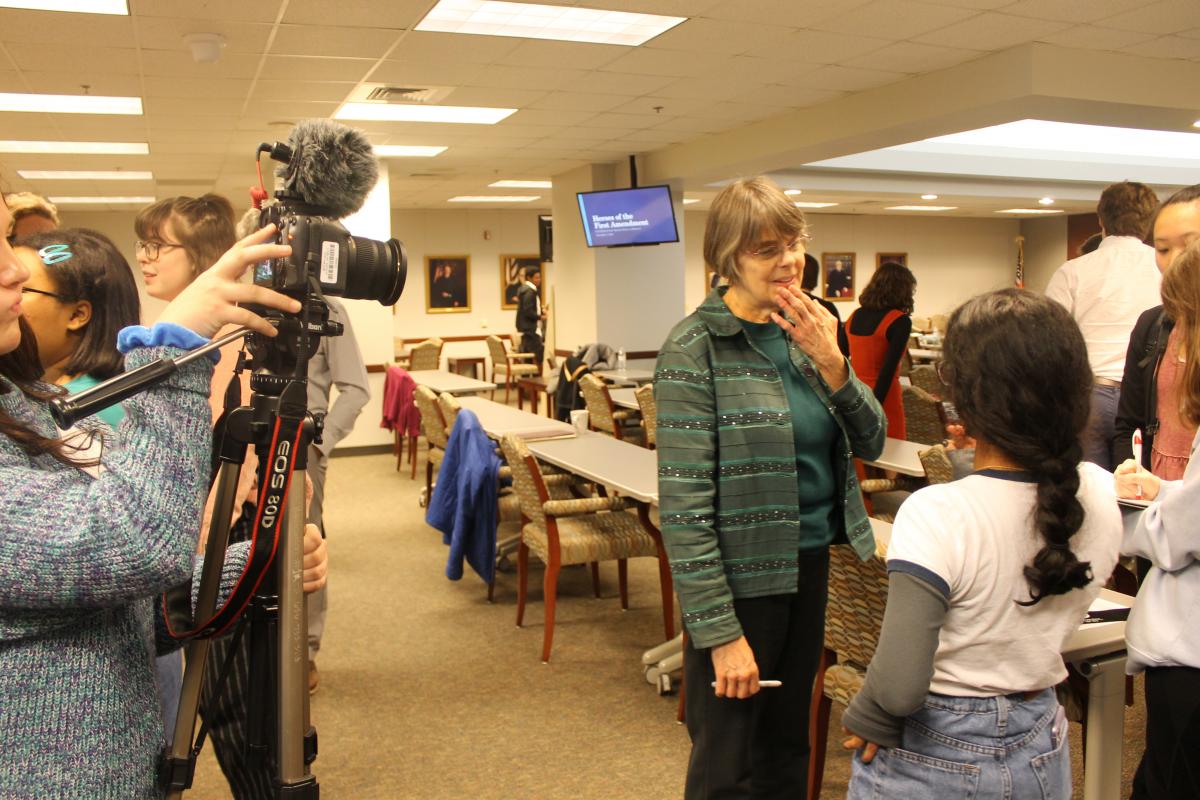 Mary Beth Tinker and Lynne Jackson, descendant of Dred and Harriet Scott, speaking to high school students at the Eagleton Courthouse, Nov 2019
Mary Beth Tinker speaking to high school students at the Eagleton Courthouse, Nov 2019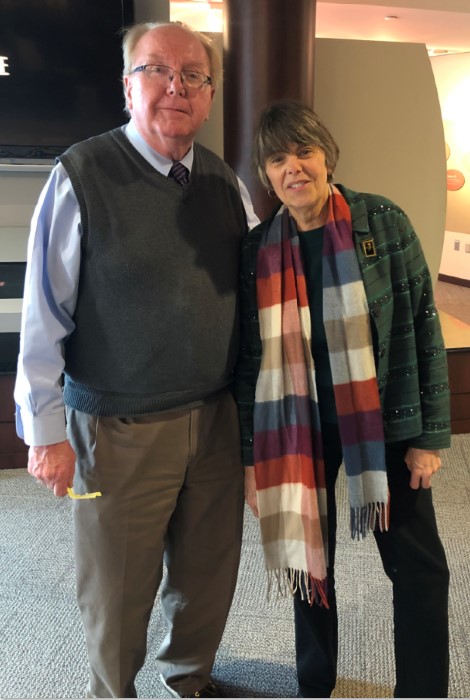 ​Chief Judge Sippel and Mary Beth Tinker in the Judicial Learning Center, Nov 2019​​​​​​
   St. Louis – Mary Beth Tinker, of the Landmark student speech case Tinker v. Des Moines, will loan her famous black armband to the Courts to display, along with an educational exhibit, in the Judicial Learning Center on the first floor of the Thomas F. Eagleton U.S. Courthouse in St. Louis
In 1965, several students in Des Moines, Iowa wore black armbands to school to protest the Vietnam War and to honor the dead on both sides.  When punished, the students and their families brought a federal lawsuit against the school district.  The case moved through the court system, including two stops before the Eighth Circuit U.S. Court of Appeals in St. Louis.  In the 1969 ruling in favor of the students, the U.S. Supreme Court stated that public school students and teachers do not shed their First Amendment rights at the schoolhouse gate.
According to the website of the First Amendment Center in Washington, D.C., this landmark ruling sets the standard for when public schools may or may not censor student expression.  The precedent set in Tinker continues to be cited in First Amendment cases, including the recent student speech case decided by the Supreme Court, Mahanoy Area School District v. B.L., involving a Pennsylvania high school cheerleader's infamous Snapchat posts.
"We are thrilled and proud that Mary Beth Tinker agreed to display this reminder of one of the most important student speech cases on record. In 1969, the Court ruled that the armband was a form of symbolic speech, and today in the Judicial Learning Center, it is a symbol of why the judicial branch is important in our lives." said Judge Rodney W. Sippel, Chief Judge of the U.S. District Court, Eastern Missouri. 
The Judicial Learning Center, located in the St. Louis federal courthouse, is dedicated to promoting public understanding of the importance of an independent judiciary and the rule of law in American society. It is a popular field trip destination for students of civics and government.  The Learning Center is open to the public during regular business hours.  School field trips are currently on hold due to the pandemic, though virtual options are available through the Court's Outreach Coordinator.
In recognition of Bill of Rights Day, the anniversary of the first ten Amendments to the U.S. Constitution, the Tinker exhibit will officially open on the afternoon of Wednesday, December 15, following a small opening ceremony.
The Courts will also partner with Street Law to host a free student webinar featuring Mary Beth Tinker, "Student Speech from Armbands to Snapchat." The webinar will be at 1:00 pm on Wed Dec 15.  Teachers may register their classes through Street Law at https://bit.ly/3oDLDCI
Members of the media are welcome to attend the opening ceremony.
Wednesday, December 15, 9:00-9:30 am
Thomas F. Eagleton U.S. Courthouse, 111 South Tenth St., 63102
Please contact Rachel Marshall in advance, due to space limitations.  A virtual option is available by request.
Contact: Rachel Marshall
Public Education and Community Outreach
U.S. Court of Appeals, Eighth Circuit
U.S. District Court, Eastern District of Missouri
(314)244-2410 Desk
Rachel_Marshall@ca8.uscourts.gov